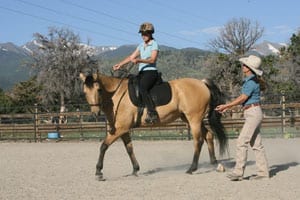 Julie Goodnight clinics focus on understanding the horse's natural behavior, improving the relationship between horse and rider and developing the rider's skill and ability to communicate with and control the horse. You'll leave with a better understanding of your horse and tools to help you create the connection you want!
Goodnight offers two to five day clinics on topics ranging from general horsemanship to ranch horse riding and trail riding; open to riders of all breeds, disciplines and ability levels. Bring your horse and get a personalized coaching or come as a spectator and learn from observing Goodnight work with all the horses. For more information on clinics, call now! 800-225-8827
Clinic Schedule
Goodnight horsemanship clinics are scheduled in various regions, rotating around every 2-3 years, to cover as much territory as possible. The online clinic schedule is updated regularly. For the current schedule and detailed information on each clinic…
Click here  for All Clinics and Events>>
Come as a Spectator
Spectators at Goodnight's clinics enjoy watching all the horses and riders and learning from a broader perspective. Observe the details, ask questions, make notes and network with others in a friendly and growth-oriented environment.

Or call our office for help finding the clinic near you: 800-225-8827.
Riding Retreats
Three times a year, Goodnight offers special Riding Retreats at the C Lazy U Ranch in Granby, Colorado. These are 4-5 day riding vacations at a renowned "5-Spur" guest ranch and include accommodations and meals plus the use of a ranch horse. Spectacular scenery, luxurious accommodations and gourmet meals accentuate the awesome riding.
Registration for Goodnight's riding retreats are directly through the C Lazy U Ranch.
Volunteer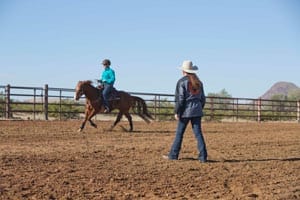 For both clinics and expos, we depend of a few "local" volunteers to help set-up, collect tickets, help customers, write up sales and assist Julie when she needs help. We count on enthusiastic followers that have familiarity with Goodnight's products and enjoy learning and being part of the Goodnight crew.
Let us know you would like to Volunteer Now!

Host a Clinic
Each year, we look for facilities that are perfect for hosting a Goodnight clinic – centrally located, event oriented with an interest in providing educational opportunities to all types of horse owners, offering up to 30 stalls, and indoor/covered arena, and comfort for up to 100 spectators. We look for facilities that are near metropolitan areas, with easy access and who are interested in providing educational events to horse owners.
There is no cost to you for hosting a Goodnight clinic. We do all the promotion, registration and organization, and work with the facility to ensure all needs are met. If you are interested in having a clinic in your area and know of a perfect private facility, we'd love to hear from you.
Let us know you would like to Book A Clinic Now!
What people are saying….
Sue H: I have been a rider and a spectator at Julie Goodnight clinics. What I enjoyed the most is that Julie is constantly watching and teaching. I was amazed at how she could see each of us and notice each horse. I wish all horse people could interact with Julie. She makes it simple and fun.
Helen K: I saw you first at Equine Affaire several times then had the good fortune to come to your clinic with Kimmer in Tn… I found your clinic very professional, positive, straightforward and very rewarding Joanne had learned so much from you, it has made her a much better rider, more confident in her manner of correction. Which has been a blessing to both horse and rider. So thank you Julie.
Kathi V: I got to audit a clinic. Julie answered each of our questions thoroughly and thoughtfully. She was fun and it was a pleasure to see the changes in all the rider/horse as the day progressed! Hope to see Julie again!!


News Room