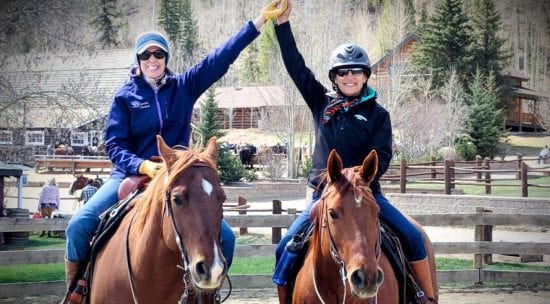 Women's Riding & Wholeness Retreat, CLU Ranch
Join Julie Goodnight and Barbra Schulte for four nights and five days in the glorious Rocky Mountains to gain new riding skills, explore your passions and indulge yourself in superior service and luxury at the renowned C Lazy U Guest Ranch.
Beyond improving your horsemanship with daily lessons from two of the most popular clinicians in the U.S., you will also enjoy guided trail rides on the expansive ranch, and you will learn strategies for navigating fear and stress! Horses teach mindfulness – staying in the present moment which enables you to manage your energy in any situation gracefully. Staying present will help you to develop the personal skills necessary to build confidence, resilience, and emotional freedom, and to increase your ability to concentrate.
You will also develop the practical skills of maintaining your balance while in the saddle and riding through challenges; learning to guide the horse using more seat, and less hands, and learning high-performance training tips for handling pressure!