HORSE MASTER WITH JULIE GOODNIGHT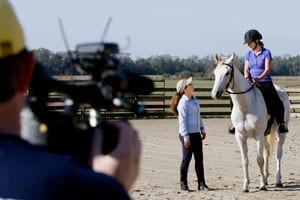 Horse Master is a reality-based TV show that features Julie Goodnight, working with a different horse and rider each week, helping them to overcome their challenges and progress to the next level. We work with horses of all types and riders from every discipline, tackling the most common issues to which all horse owners can relate. We tape 24 episodes each year, in various locations throughout the US.
Horse Master with Julie Goodnight airs weekly on RFD-TV. RFD is available on both DirecTV and Dish, as well as most major cable companies.
RFD-TV SCHEDULE: First airings Mondays at 2:00 pm and 10:00 pm Eastern Time and Sundays at 8:00 am Eastern Time
DirecTV, channel 345 or DirecTV NOW–included with the base membership
Dish TV, channel 231
AT&T U-Verse, channel 568
For a list of cable providers or to find RFD in your area… Check Here
Over 200 episodes of Horse Master with Julie Goodnight are available online, on-demand, by subscription. Search any horse training topic from halter training a youngster to flying lead changes—the help you need, when you need it. Watch the TV shows now with a Library Access or Interactive membership! See the full line up of every show ever recorded>>