About Ride On with Julie Goodnight
A monthly podcast on horses and equestrian sports, established in 2015 and hosted by Julie Goodnight. Each podcast features in-depth training advice and entertaining anecdotes from Julie, on motivational topics like building confidence, setting goals and developing leadership, plus practical horsemanship advice like teaching ground-manners, evaluating a new horse, or saddle fit. The podcast also features the popular Q&A segment, "What the Hay? Q&A," where listeners submit questions for Julie. With more than 40 content-rich, ever-green episodes available, the subscribers keep coming back for more! TRT: Approximately 60 minutes

Growing up in the '60s on a horse farm, Julie Goodnight established a connection with horses early-on. Little did she know that her childhood affinity for horses would blossom into a remarkable career as an internationally known horse-whisperer and TV personality. Following a successful run as a youth rider on jumping horses in Florida, Goodnight headed west to pursue her dreams of skiing, mountain climbing and white-water adventures. She galloped her way through college on the backs of racehorses in New Mexico, moving to Colorado and founding her horse training business in 1985. 
Goodnight soon became known for having a magical touch with horses and a gift for connecting with people. As her reputation grew, she began travelling the world to share her unique approach to horse training. In 2008, Goodnight became Executive Producer and Host of the TV series, "Horse Master with Julie Goodnight," an unscripted horse training series that aired weekly for eleven years—Goodnight starring in all 260 episodes. Goodnight now sets her sights on bringing the magical world of horses to the broader audience with 2Horse Productions®, a nature, science and adventure lifestyle production company.
Julie is awesome
Julie is awesome!!! Thank you for taking the time to do this, we all appreciate it! Julie has the best advice!
Thank you, Julie!
Julie is the real deal and this podcast is the best. FREE advice from such an accomplished horsewoman is an incredible gift. I keep my horses on my own place, so I need to keep top-notch information coming to me. So glad I found this inspirational podcast to help me move forward with my horses. Thank you, Julie. It is wonderful. I will be sharing!
Is your horse a good citizen
Excellent and informative podcast! This podcast touches on every person's and every horse's good qualities as well as the negative qualities ...and how to improve and change the negative ones! Easy and relaxing listening to important information that all horse people should hear and learn from!!!
Super!!!
Julie's podcasts are really helpful! She gives clear, easy to follow descriptions of problems & solutions. She breaks things down so they make sense. I've enjoyed this podcast so much, I signed up for one of her clinics in Colorado! I can't wait!!! Thank you Julie Goodnight for this!!!
Extremely helpful
I just recently found this podcast. I have been following Julie Goodnight for a couple of years; watching her at clinics, following her on Facebook. I love how she keeps it simple and easy to understand. I got caught up in listening several good trainers, but it was causing me to try too many methods on my horse leading to very inconsistent riding skill on my part. I have decided to follow just one trainer and focus on those methods. Thank you Julie for helping this rider!!
Great info!!
I recently found this podcast and I am hooked! I've admired and learned from Julie Goodnight from watching her demos at expos and watching her tv program. She always makes things seem so doable no matter what your problem. She manages to give that same feeling when I listen to the podcast. It is inspiring and educational as well as entertaining hearing her stories of past horses who were challenges I highly recommend listening to this if you are interested in increasing your knowledge and skills with horses!
Sponsorship & Advertising Opportunities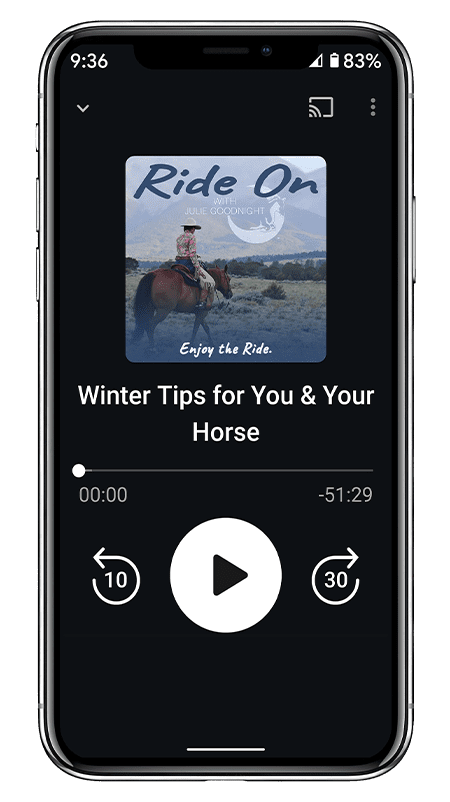 For more information email Press@JulieGoodnight.com or call
(719)530-0531