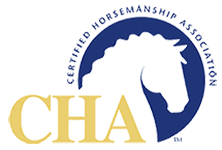 Certified Horsemanship Association International Conference
Julie Goodnight is the spokesperson for the Certified Horsemanship Association and is an annual presenter at the CHA's Annual International Conference.
Speakers at this event include riding instructors, horse trainers, barn managers, veterinarians, equine behaviorists, farriers, saddle fit specialists, equine association representatives, business and marketing consultants, and other equine professionals.
CHA members and non-members alike are welcome—the conference is open to anyone from industry professionals to general horse enthusiasts with prior registration. It will offer educational horsemanship clinics—both English and Western—from a variety of nationally known presenters. Full conference attendees can sign up and ride in a session, and audit the rest of the presentations at the conference. Sessions include classroom-style lectures, roundtable discussions, hands-on horse demonstrations, and mounted riding sessions.