HORSE MASTER WITH JULIE GOODNIGHT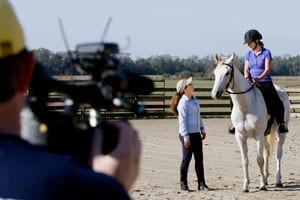 Horse Master is a reality-based TV show that features Julie Goodnight, working with a different horse and rider each week, helping them to overcome their challenges and progress to the next level. We work with horses of all types and riders from every discipline, tackling the most common issues to which all horse owners can relate. We tape 24 episodes each year, in various locations throughout the US.
Horse Master with Julie Goodnight airs weekly on RFD-TV. RFD is available on both DirecTV and Dish, as well as most major cable companies.
RFD-TV SCHEDULE: First airings Mondays at 2:00 pm and 10:00 pm Eastern Time; 1:00 pm and 9:00 pm Central; 12:00 pm and 8:00 pm Mountain; 11:00 pm and 7:00 pm Pacific Time
DirecTV, channel 345 or DirecTV NOW–included with the base membership
Dish TV, channel 231
AT&T U-Verse, channel 568
For a list of cable providers or to find RFD in your area… Check Here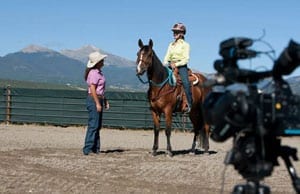 Click to see the shoot schedule (listed on the application in the drop down form) and  APPLY ONLINE now!
Tips and notes: All applications must be received digitally and will be reviewed one month prior to the selected shoot date. Please do include a link to a Youtube or Facebook video so we can see you and your horse– and make sure to mark the video as public so that we can see (many times, settings may limit your post to your friends and family only).
Horse Master TV shows are taped three times a year at various locations throughout the U. S. We look for horse/owner teams that want help to improve their relationship and/or performance; English, Western and Trail; youth and adults; beginner through advanced. We shoot in warm-weather locations in March, July and October. We are always looking for somewhere new to shoot in the fall. If you know of the perfect WARM place where our cast and crew can stay with their horses on site in the fall (and with a large arena with great backdrops) let us know!
Selected cast and crew, fill out your release forms now>>
Nearly 200 episodes of Horse Master with Julie Goodnight are available online, on-demand, by subscription. Search any horse training topic from halter training a youngster to flying lead changes—the help you need, when you need it. Watch the TV shows now with a Library Access or Interactive membership! See the full line up of every show ever recorded>>