Each year, Julie Goodnight is a featured clinician at many of the largest and most prestigious horse expos. Highly sought for her entertaining and educational presentations, along with her substantial marketing—which translates to ticket sales– Goodnight offers presentations ranging from fascinating talks on horse behavior to live-horse arena demonstrations on topics ranging from dealing with 'problem horses' to basic riding skills to high-level maneuvers.
Visit our Online Calendar for All Clinics and Events.
Some Upcoming Expos are listed below:
http://juliegoodnight.com/calendar/
For both clinics and expos, we depend on a few "local" volunteers to help set-up, greet customers, write up sales and assist Julie when she needs help. We count on enthusiastic followers that have familiarity with Goodnight's products and enjoy learning and being part of the Goodnight crew.

EXPO PRODUCERS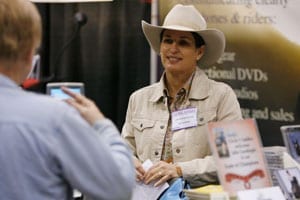 Goodnight is known for her informative and entertaining live-horse demonstrations and clinics, as well as her compelling lectures and inspiring keynote speeches. She's extremely popular with expo attendees because of her clear, practical, no-nonsense yet humorous presentations. With her popular TV show reaching 600,000 viewers each month and her expansive social media presence, Goodnight brings a lot of marketing power to the table.
Expo producers – choose from fresh and fun clinic and seminar titles and find all the details about booking Julie and how we will advertise for YOU;
Contact Twyla to ask for an expo packet or call 800-225-8827
Download what you need NOW>> Julie's biographies, intros, logos, high-resolution photos; visit our  Press & Media Room.