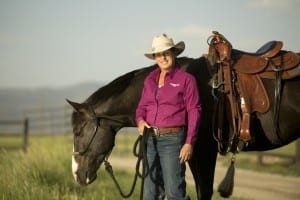 Julie Goodnight is an internationally respected trainer and clinician with experience in many types of training. She grew up riding ponies and horses on an Orlando farm and competed in hunter jumpers throughout her youth. Julie counts horses among her earliest friends; she spent many summer days hanging out in the horse pasture and studying how the horses moved and interacted. During her college days in New Mexico, Julie earned extra money by warming up Thoroughbreds on the race track. The cowgirl felt at home in the west and soon hit the trails and studying Western disciplines. Always the adventurer, she began leading riders through the Rocky Mountains. As a natural teacher, Julie decided to make horses her life's work-and to teach people how to work with horses safely and with kindness. Showing her dedication to teaching and safety, Julie earned her Master Instructor and Clinician ranking with the Certified Horsemanship Association (the association she continues to represent as International Spokesperson). In 2008 she was named Equine Affaire's Exceptional Equestrian Educator–one of only three awards ever given.
Now, Julie teaches riders how to be their horse's leader and to excel in whichever equestrian sport they choose. Her varied background and training in dressage, jumping, racing, reining, colt-starting, cutting, and wilderness riding make her a well rounded instructor. She teaches horse owners around the world how to establish great relationships with their horses through her Clinic Tour, Horse Master with Julie Goodnight television show, Expo Appearances and her many How-To DVDs.
Julie is now best known for her award-winning television show airing weekly on RFD-TV—Horse Master with Julie Goodnight. Through the show, Julie hopes to help all riders master their equestrian dreams and skills. As "The Horse Master," Julie shares the wisdom she's gained by reaching her master-level CHA status and encourages all horse people to become the leaders/masters their horses want and deserve. Natural horsemanship is founded on understanding horse behavior and the idea that horses look for leadership, direction and assurance that they're safe and acting appropriately. Julie strives to teach you how to master that ideal and emphasizes the importance of life-long learning.
On television and in her clinics, Julie has an upbeat and logical style of teaching. She has a unique ability to bridge natural horsemanship techniques with the principles of classical riding. Her training and teaching techniques are frequent features of The Trail Rider, America's Horse, Horse & Rider, Perfect Horse, Certified Horsemanship Association's The Instructor and many other excellent equine publications and websites.
Julie Goodnight resides near Salida, Colorado, at her private horse ranch with her husband, Rich Moorhead–an avid National Versatility Ranch Horse competitor and the CEO of Monarch Mountain ski resort.
Visit the Press Room for high resolution photos of Julie Goodnight as well as her biographies.
Natural Horsemanship History and Influences:
Julie formed her own horsemanship training style and techniques after years of riding many types of horses and with countless mentors. She's self taught–not a product of another trainer's coursework. Julie counts her dad as one of her early mentors–he always had horses for she and her brother and sisters to ride and made sure Julie had the chance to ride and show. Julie worked with local Florida trainers in her youth as she prepared for elite hunter jumper competitions.
In college in New Mexico, Julie began working Thoroughbreds on the racetrack and learned more skills from trainers on the backside. After college, Julie led pack trips through the mountains, worked at an Arabian training center, and finally formed her own natural horsemanship training facility and camp in Colorado.
It's by riding so many types of horses and working with many different trainers in the industry that Julie learned the similarities in all styles. She learned what worked and what didn't; she saw how horses responded with kind training methods and witnessed what happened with alternative methods. Through all her experiences, she gained an even greater appreciation for the horse and became determined to teach all horse owners how to interact as their horses' kind leaders. Now as international spokesperson for CHA, Julie represents safe riding and kind horsemanship techniques–in English and western disciplines.
At A Glance

Family: Husband Rich Moorhead; son Hunter Goodnight
Major Influences: Ex-Cavalry instructors of classical riding and multi-discipline training.
Special interests: Skiing, boating
Background: Goodnight grew up on a small horse farm in central Florida (Orlando) and was a youth competitor on the hunter/jumper circuit. She worked on breeding farms and racetracks through college and graduated from the University of New Mexico in 1984. She is a certified CHA Master Instructor and Clinician, currently traveling 40-45 weeks a year for speaking engagements and clinics all over North America.
What to expect from Julie: Clear communication with a fun and entertaining approach; high standards in safety and professionalism; a high level of success for both horse and rider.